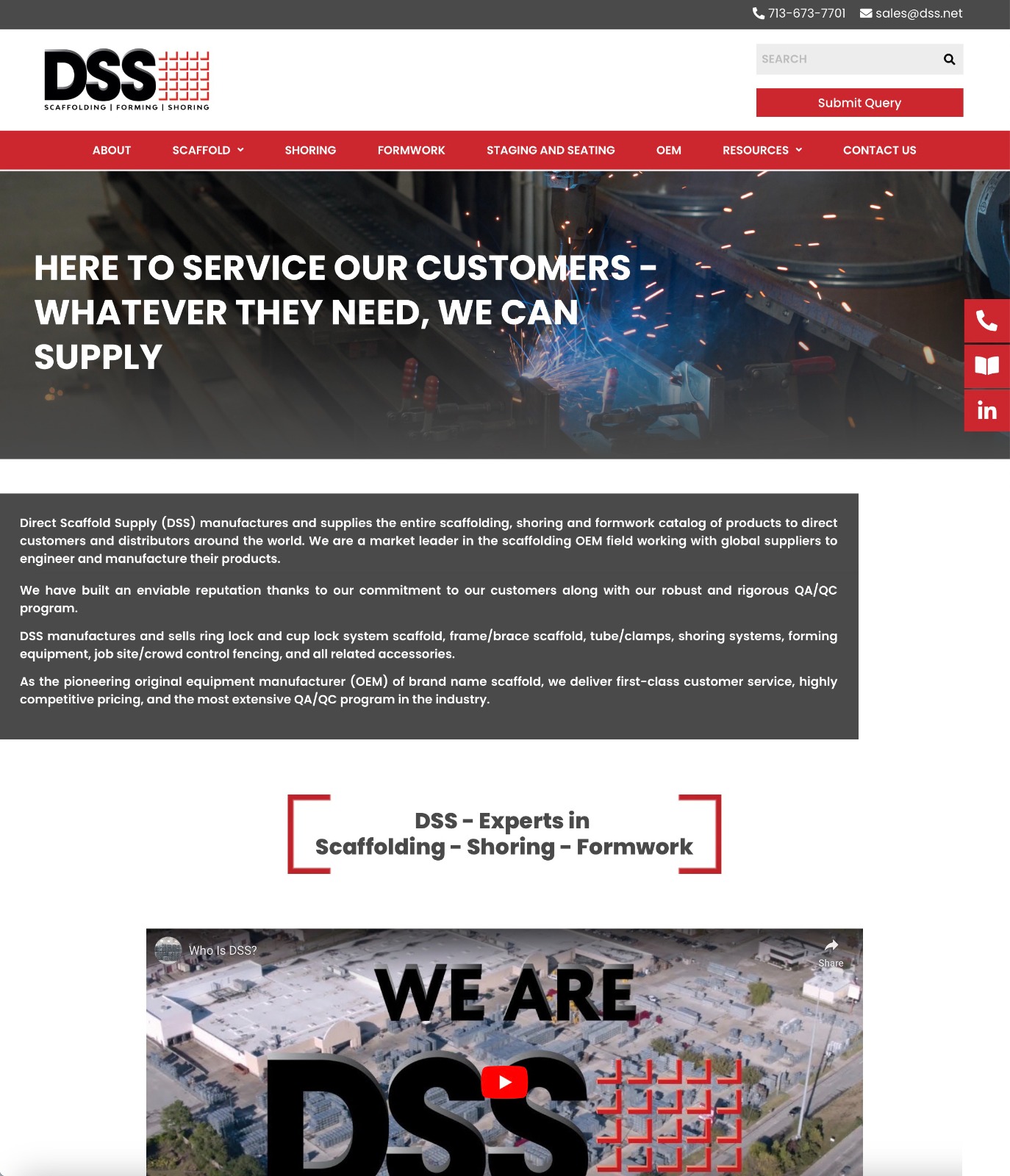 DSS (Direct Scaffold Supply) has launched a new website designed to make learning about its products a more straightforward process.
Over the years, DSS has grown substantially and now offers a huge range of specialized equipment from scaffolding, shoring, and formwork to temporary fencing, staging, and bleacher systems. Each of these categories offers a wide range of options and as these new offerings were added to the former site it became clunky and hard to navigate.
"We listen to our customers and their needs, which has led to our engineering and product development teams designing and releasing more and more solutions to our customers," DSS CEO Mike Doxey said. "Our website had outgrown its original design and we knew we had to launch a new site to make it more user-friendly for our customers and contacts."
The new site which is available at the old URL www.DSS.net, is split into easy-to-navigate sections of products listed with details and images. DSS also created a dedicated page for OEM (original equipment manufacturers) and private label customers.
"We work with customers across the world to help them achieve their goals. We aim to engineer and re-engineer components to remove costs while maintaining quality resulting in more value for our customers," Mike said. "We want to ensure that message is correctly shared."
If visitors are more comfortable learning about DSS product range via catalogs, they are available on the site's resources page.
"We're delighted to have made the new website live and look forward to receiving feedback from users so we can continue to improve our service as needed" Mike added.
Notes to Editor:
Direct Scaffold Supply distributes more than 50,000 metric tons of scaffolding, forming, shoring and OEM products from our distribution centers in the US, Canada, Latvia, Germany, and the UK.
We maintain one of the largest, most diverse, and comprehensive inventories found anywhere in the world. During our quarter of a century in operation, we have built a reputation for being a leading global supply chain expert with unmatched manufacturing capacity and techniques.
As the pioneering OEM (Original Equipment Manufacturer) of brand name Forming, Shoring and Scaffolding Systems, we have built a reputation for first-class customer service, highly competitive pricing, and the most extensive QA/QC program in the industry.